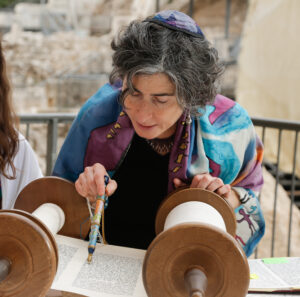 Rabbi Amita Jarmon
For Rabbi Amita's writings on Torah Portions, thoughts on Jewish holiday and lifecycle events, as well as suggestions for new personal and community practices, go to Divrei HaRav–Rabbi's Words.
About Rabbi Amita:
Congregation Shir Heharim–Brattleboro Area Jewish Community welcomed Rabbi Amita Jarmon as its spiritual leader on December 1, 2021.
Rabbi Jarmon grew up in Amherst, MA, and feels that she is "coming home" after many years of travel and numerous employment experiences. She spent a year in Israel after high school and fell in love with the land and the people, returning several years later to become an Israeli citizen, studying physical therapy at Tel Aviv University. She worked for over a decade as a physical therapist in Philadelphia and Western Massachusetts before attending the Reconstructionist Rabbinical College and becoming the full-time rabbi at a synagogue in coastal Maine. 
As the years went by, she felt a call to return to Israel. There she renewed her physical therapy skills in long-term care facilities, working harmoniously with eclectic staffs of both secular and orthodox Jews from around the world, Palestinians, native Israelis, and African asylum seekers, especially enjoying dancing with her patients. In addition, she tutored Hebrew, officiated at life-cycle events, and completed a course in Clinical Pastoral Education (Spiritual Care).  She participated in services with the Jewish Renewal community in Jerusalem, as well as Reform and Conservative synagogues there. 
Rabbi Amita has been active in projects with Rabbis for Human Rights, Seeds of Peace, and has served on the steering committee of the Sulha Peace Project, which brings Israelis and Palestinians together to share personal experiences and feelings that create bonds of empathy and affection. Even while spending most of the last 12 years in Israel, Rabbi Jarmon served various communities in North America as Rabbi and/or Cantor for the High Holy days each year.  She says her heart and soul belong to both Israel and New England, and she is grateful for this exciting opportunity to serve Shir Heharim (Song of the Mountains), the synagogue of the Brattleboro-Bellows Falls-Putney-Marlboro-Dover residents and seasonal visitors. 
Keene Sentinel Article:
Rabbi Hopes to Bring Vibrancy of Jewish Community to Brattleboro