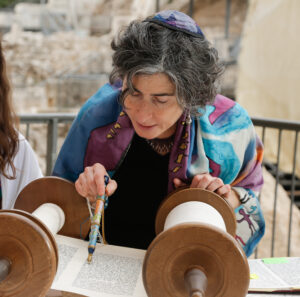 Rabbi Amita Jarmon
"Thanksgiving, Rosh Chodesh Kislev, Celebrating Cultures"
  On Thanksgiving most residents of the US gather together with family and/or friends for a festive meal regardless of country of origin and regardless of religious tradition. Whether one is religious or an atheist, today is a day to pause and give thanks for whatever is good in our lives.  In recent years, dozens of books have been published about the benefits of gratitude and how to practice gratitude. 
Jewish tradition instructs us to give thanks each morning immediately upon waking.  The first thing we say is, "Modeh (masc) / Modah (fem) / Modet (non-gendered) Ani…"  "I give thanks before You… for compassionately returning my soul to me … how great is Your faith in me."  I say this each morning in the same way I do it when leading services – bowing to the left giving thanks for the past, bowing to the right giving thanks for the future, and bowing to the center giving thanks for this moment.
Three times each day in the Amidah (standing prayer), the penultimate blessing begins: "Modim Anachnu Lach…"    "We give thanks before You…"  and ends with "…l'cha na'eh l'hodot,"  "It is good/pleasing to give thanks to You."  This particular blessing has us give thanks for the miracles that we experience each evening, morning and afternoon.   
It is good to give thanks.  By saying these words, we are reminded of what we are grateful for, no matter how challenging our day has been, no matter what is not going well in our lives or in the world, even when we are ill or bereaved. 
This year, Thanksgiving coincides with Rosh Chodesh Kislev – the new moon of Kislev.  
As Mordecai Kaplan said, we Jews live in two civilizations.  This is true today, and it has always been true.  We live in Jewish civilization, and we also live in the "host" civilization.  In our case, that host is North America, which in itself is a mix of many cultures.
In recent years, there is a growing awareness of our responsibility toward the descendants of the First Nations.  It is incumbent upon us to learn about the Abenaki, whose bodies and culture were almost completely wiped out by the Europeans who colonized Vermont in the early 18th century.  We might individually consider contributing to an organization that supports Abenkai or other Indigenous peoples.   [I see several such organizations on the web but don't know how to evaluate them.  If anyone reading this can recommend effective, trustworthy ways to make reparations, please contact  ravamita@bajcvermont.org ].  
Celebrating Thanksgiving, which may include acknowledging the complexities of this day, is a practice of the host civilization we live in.  Looking up and noticing that we cannot see the moon on a clear night when we do see stars, is a practice of Jewish civilization, as is singing a partial Hallel (selections from Psalms 113-118) the next morning. 
Last night, I joined a group of eight women rabbis in Israel via Zoom (for them it was already this morning), singing Hallel to celebrate Rosh Chodesh.  While I believe it is important for us to support the preservation of Indigenous cultures, I obviously also believe it's important to preserve our own culture, which includes paying attention to the cycles of the moon.
Each month has its own energy.  My friend Mindy Ribner, a student of both Reb Zalman and Reb Shlomo, wrote Kabbalah Month by Month, 2002.  She has a great deal to say about each month.  Here is some of what she says about Kislev: 
"Kislev is about transcending what is logical, actualizing dreams and visions and going forward. Kislev is known as the month of miracles. 
During the month of Kislev, we become more aware of Divine synchronicity.
Kislev is a time of deepening faith and trust. Living with faith enables us to not be bound by the reasoning powers and limits of the mind. It is faith, not the mind, that opens us to new possibilities and new dimensions. It is faith that enables us to go forward in ways we could not do previously.
The month of Kislev is about learning to more fully trust in the Source of All Life. Kislev is about reclaiming the dreams of the inner child. Kislev is about taking risks to move forward to live more authentically and embody more of our soul potential. In Kislev, we are better able to access the guidance of our very own soul and live with greater confidence."
Another dynamic and brilliant teacher, Chaya Lester, who lives in Jerusalem, is offering an online course on three Sunday afternoons (1:30-3:00 eastern time). Kislev Dream Workshop: 
https://www.chayalester.com/dreamwork.html 
For a taste of Chaya's teachings, go to her Facebook page or website. 
Blessings for a day of Gratitude and Joy, Chodesh Tov, and Shabbat Shalom,
Rabbi Amita  רב אמיתה      
*******************************************************************************
About Rabbi Amita
The Brattleboro Area Jewish Community welcomed Rabbi Amita Jarmon as its spiritual leader on December 1, 2021.
Rabbi Jarmon grew up in Amherst, MA, and feels that she is "coming home" after many years of travel and numerous employment experiences. She spent a year in Israel after high school and fell in love with the land and the people, returning several years later to become an Israeli citizen, studying physical therapy at Tel Aviv University. She worked for over a decade as a physical therapist in Philadelphia and Western Massachusetts before attending the Reconstructionist Rabbinical College and becoming the full-time rabbi at a synagogue in coastal Maine. 
As the years went by, she felt a call to return to Israel. There, she renewed her physical therapy skills in long-term care facilities, working harmoniously with eclectic staffs of both secular and orthodox Jews from around the world, Palestinians, native Israelis, and African asylum seekers, especially enjoying dancing with her patients. In addition, she tutored Hebrew, officiated at life-cycle events, and completed a course in Clinical Pastoral Education (Spiritual Care).  She participated in services with the Jewish Renewal community in Jerusalem, as well as Reform and Conservative synagogues there. 
Rabbi Amita has been active in projects with Rabbis for Human Rights, Seeds of Peace, and has served on the steering committee of the Sulha Peace Project, which brings Israelis and Palestinians together to share personal experiences and feelings that create bonds of empathy and affection. Even while spending most of the last 12 years in Israel, Rabbi Jarmon served various communities in North America as Rabbi and/or Cantor for the High Holy days each year.  She says her heart and soul belong to both Israel and New England, and she is grateful for this exciting opportunity to serve Shir Heharim (Song of the Mountains), the synagogue of the Brattleboro-Bellows Falls-Putney-Marlboro-Dover residents and seasonal visitors. 
Keene Sentinel Article:
Rabbi Hopes to Bring Vibrancy of Jewish Community to Brattleboro