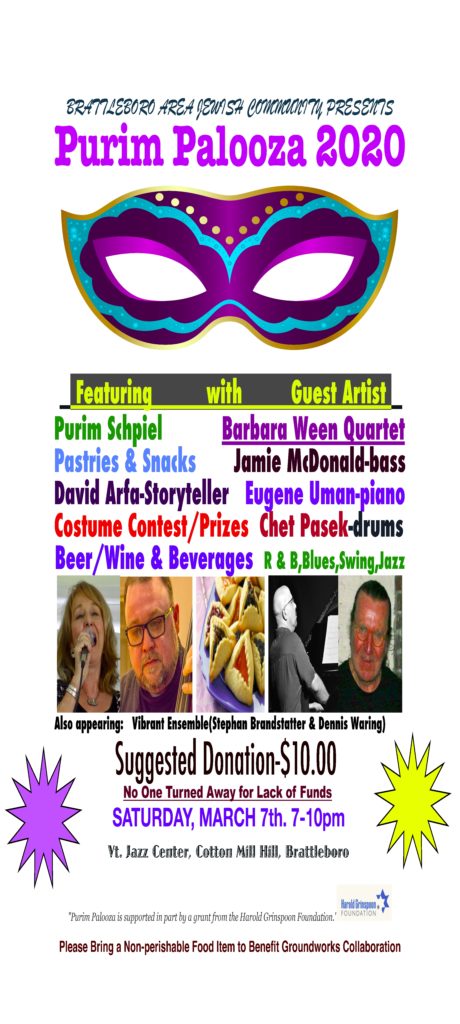 Purim Dance Party
Got the Cabin Fever Blues? Worn out by the nightly news? We have the solution. On Saturday, March 7th, 2020 from 7-10pm, at the Vermont Jazz Center, BAJC is hosting another Purim Palooza party. Wear your wildest costumes and masks or come as a character from the Book of Esther, which tells the story of Purim.
Headlining the evening will be the Barbara Ween Quartet (barbaraween.com), with our own Eugene Uman accompanying her on piano and two other outstanding world class musicians on bass and drums. Maggid David Arfa will tell hilarious and poignant Jewish stories. The traditional PurimSchpiel, a comic satirical dramatization of what transpired on Purim and why it has become an important Jewish holiday will be staged with take away lessons applicable to today's culture. Additionally, there will be a costume contest with nearly $200 in prizes.  Opening up the evening will be Vibrant Ensemble comprised of Stephan Brandstatter and Dennis Waring performing their brand of multi cultural inspired world music. We will drink some beer or wine, eat some food and pastries prepared by BAJC volunteers and YES of course have Hamentaschen plus Rugulach.
We are still seeking pastry bakers and food volunteers. It's a night of family fun for all with a suggested admission donation of $10.00. No one will be turned away for lack of funds. Please bring a non-perishable food item to benefit the Groundworks Collaborative. If you know you'll be attending and would like to either help set up or break down or simply have questions, please contact Stephan (getmusic@sover.net) or Rabbi Lee (rabbilee@bajcvermont,org). LET'S PARTY!
GUEST LEADER FOR THE SHABBAT SERVICE ON MARCH 14th
BAJC is very pleased to announce that our Shabbat service on March 14th will be led by Jim Levinson, our dear friend, past spiritual leader and "life member" of BAJC. Most of you know and love Jim and we certainly encourage both long-time and newer members to enjoy a warm Shabbat observance with him. Although he has said "I've hung up my tallis," we're glad he's coming with his well-worn tallis in hand to lead us once again. Service starts promptly at 10am, so come early to be assured of a seat.
Join Us for  Our Earth Seder
Please join us on Saturday April 11th at the Guilford Community Church for a vegetarian Earth Seder for Passover.  We will be using the just-published Haggadah: The Promise of the Land written by Rabbi Ellen Bernstein, a renowned environmentalist, and founder of the first national Jewish environmental organization in 1988.  This April is the 50th anniversary of Earth Day, and BAJC will join with other Jewish groups in taking this opportunity to raise our consciousness in service to the earth and its creatures. Reservations can be made by going to SignupGenius.com beginning March 1st and using this link: https://www.signupgenius.com/go/904044ea8aa22a46-bajc3, or by emailing passover@bajcvermont.org, or by calling  (802-257-1959). Adults $25, Kids 10 and under $18.  See you there!
JEWISH MEDITATION AND SPIRITUALITY
Jewish Meditation and Spirituality will resume in March on the first and third Tuesdays of every month as a regular practice. All are welcome to join Rabbi Lee's teachings about Jewish spiritual practices and to sit together in a contemplative learning atmosphere. March meetings are on the 3rd and 17th from 5:30 to 6:30 pm.
Look what our Kids made!