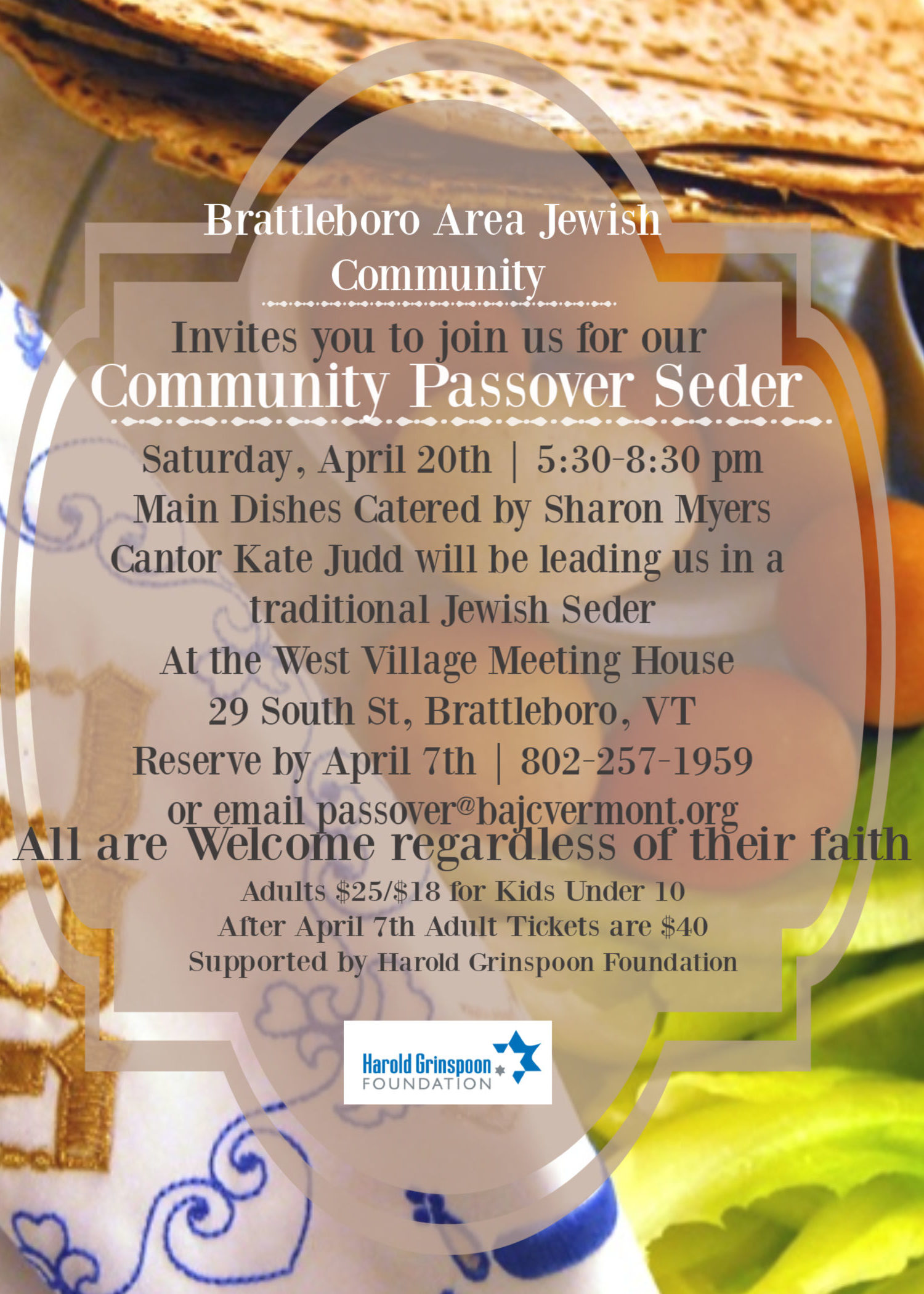 Passover Seder
We are delighted to invite you to our Community Passover Seder which will take place on the second night of Passover, Saturday April 20, 2019 at the West Village Meeting House at 5:30 p.m.  Bring your family! Bring your friends! Main dishes will be catered by Sharon Myers Fine Catering and Cantor Kate Judd will be leading us through a traditional Jewishseder. You don't have to be Jewish to share this journey and feast with us – all families and individuals are welcome!  To make reservations, follow these three simple steps. Step 1: Give us the names of all the folks you are reserving for by email (passover@bajcvermont.org), by phone (802-257-1959) or through the Sign Up Genius portal (https://www.signupgenius.com/go/904044ea8aa22a46-2019). Step 2: Send a check made out to BAJC to Laura Berkowitz  P.O. Box 384 Marlboro, VT 05344. There will also be a box for checks at our synagogue, 151 Greenleaf St. Brattleboro. Step 3:  Log on to Sign Up Genius to choose your contribution of a ritual item, a specific food, or to help with set up or clean up. Sign Up Genius is easy to use and has no membership fee, nor do you have to become a member to use it to reserve your space, to see how you can contribute and to see what others have already pledged to bring.  If you would prefer to sign up by speaking to a live person, call Laura Berkowitz 802-257-0922 and she will help you figure out a contribution that works for you. Reservations must be paid in full bySunday April 7th: adult $25, children ages 4 to 10-$18 each, no charge for children  underfour. Late reservations ($40) will be accepted subject to available seating. We welcome additional monetary donations to provide for everyone who wishes to participate. If the cost is a hardship, a confidential accommodation will be made.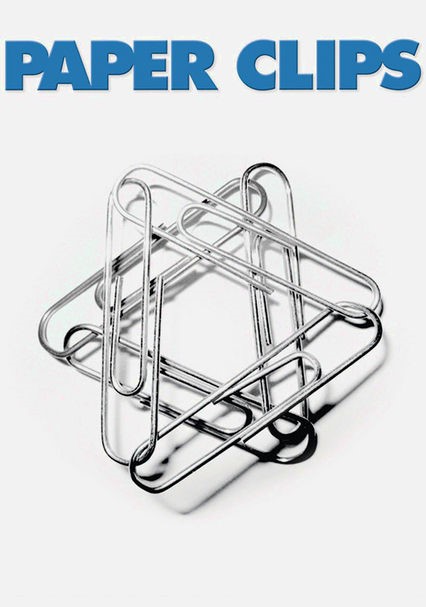 Paperclips
On May 2, 2019 at 7p.m. Next Stage, in Putney, Vt. With sponsorship by the Brattleboro Area Jewish Community (BAJC) will show the film Paperclips by the deceased filmmaker Elliot Berlin, in honor of Holocaust Remembrance Day. This film tells the story of Whitewell Middle School located in a rural, heavily Christian Tennessee community, where an extraordinary experiment and learning experience in Holocaust education took place. Struggling to grasp the concept of six million Holocaust victims the students decide to collect 6 million paperclips, designed in Norway by a Jewish man, and worn as a sign of resistance during WWII. A suitcase arrives at the post office filled with Holocaust memorabilia. Soon, as word of their project grows worldwide with the help of two German newspaper correspondents stationed in Washington D.C., they've collected 29 million paper clips, photographs, and memorablia. In total, 11 million paperclips are now in the museum, one for every person murdered, along with other items of remembrance. A train delivers the boxcar, secured by the German journalists – all captured in real time by the filmmaker. What happens in the course of the next 4 years is remarkable and deeply moving, culminating with the students, most of whom had never met a Jew, setting up a campus Holocaust museum in one of the last cattle box cars used to deport Jews to the concentration camps in Germany and Poland, which a couple having heard of their story, found and donated to the school. The student's goal was to educate others about the mass slaughter of not only Jews but of homosexuals, gypsies and other minorities murdered by the Nazis. The students meet and bond with Holocaust survivors. Teachers, other adults, and students begin to recognize and acknowledge their own prejudices. This project and the extraordinary, important, film that tells its moving story isn't simply a memorial. It is a living reminder of what happens when prejudice prevails. Produced in 2004, it remains a fitting way to remind people of what happened in the dark days of WW II and it offers a moving testament to the importance of Holocaust Memorial Day.
Roger Ebert says, "straightforward, heartfelt and genuine"                                    Q&A will follow the screening. Next Stage is located at 15 Kimball Hill in downtown Putney, VT. Suggested ticket donation is $12, available online at nextstagearts.org and at the door. For information, call 802-387-0102.
Next Stage has a beer and wine cash bar. Those attending the film can get a 20% discount on their entrée at The Gleanery. Reservations call 387-3052.

Interfaith Services for Yom HaShoah
We would assemble in darkness.  To light a candle there, or even a match, would have brought immediate disaster upon us. We spoke about matters of the spirit and eternal questions, about God, about Jews in the world, about the eternity of Israel.  In the midst of the darkness, I sensed light in the unlit room, the light of Torah. — Rabbi Leo Baeck
            Each year, BAJC and the Brattleboro Area Interfaith Leadership Association (BAILA) offer an interfaith service in remembrance of the Holocaust. This year the service will be at All Souls Unitarian Universalist Church on Thursday, May 2, at 7 pm. As is our custom, we will light eleven yahrzeit candles: one for each million souls who were murdered by the Nazis. Six million Jews. Five million gays, political activists, Roma, handicapped –all who were deemed imperfect, sub-human, worthless.
It is always deeply moving to see members of the Brattleboro area community – Jew, Christian, Moslem, Buddhist, Baha'i, Wiccan, religious and not religious, old and young, gay and straight – step up and light a candle. Between the candle lightings, members of the clergy read texts from related to the Shoah, and we sing songs of that terrible time.  
When the service ends, I usually put the lit candles carefully in a box and drive them home. I transport them from the car to the house, and set them carefully on my hearth, where they can burn all night and all day. They are beautiful, and they break my heart. Then, toward evening, one by one, they begin to go out. Just one. Then two more, and two more. When I wake in the morning, they are all out. Gone. Dead.
Yahrzeit candles have no halakhah. Lighting them is a custom, not a law, and lighting six for the six million is a relatively recent custom. A good one. Even better to light eleven, remembering that not only Jews but many others were murdered by the Nazis and those who aided them.
It is good to light a light of remembrance, but we must never let it go out. We must keep the light of Torah burning, and the memory of each of those murdered souls alive forever. In this time of massacres in synagogues, churches and mosques, in this time of rising antisemitism and hatred of "the other,"  it is even more important to gather and remember and build solidarity. Join us to pray for a time when human beings no longer think genocide is a solution. Join us to pray for strength to fight the hatred that has been let loose in our world.