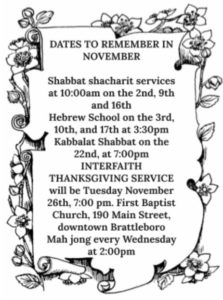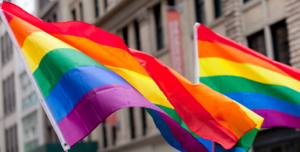 The Nathan E. Cohen Lecture Series Presents
LGBT Rights in the United States:
A Retrospective 50 Years after Stonewall
Speaker: Dale Rosenberg Sunday, November 3rd at 3PM
Admission is free and all are welcome
at Congregation Ahavas Achim
The riot at a gay bar called The Stonewall Inn, in New York's Greenwich Village, in June of 1969, is often marked as the beginning of the modern gay rights movement.  Certainly life for LGBT people in the U.S. has changed a great deal in the fifty years since then.
In 1969, police raids on gay bars were commonplace and before Stonewall, those who weren't able to run away in time generally went meekly with the police arresting them.  Gay men and lesbians lived clandestine lives for the most part, and being found out to be homosexual was disastrous. Lesbians and gay men routinely lost their jobs if their sexual orientation became known.  Homosexual sex was criminalized in all but one state of the United States in 1969. Women found to be lesbians routinely lost custody of their children in divorce. Perhaps most devastating to ordinary LGBT people, homosexuality was rarely discussed in general society.  Young gay men and lesbians often thought they were alone in the world, that there was no one else like them.
The 50 years since then have brought huge changes.  LGBT people throughout the country have fought to obtain equal rights, and had great successes, along with significant setbacks.  The AIDS epidemic increased homophobia but also made gay men, in particular, more visible. Gay celebrities – whether in the closet or out – made variety in sexual orientation more visible.  Well known transgender people brought the issue of gender identity to the forefront. The fight for equal access to military careers and equal marriage rights made the struggle visible nationwide.
How did LGBT people achieve the rights they've won?  Who were their allies and who were enemies? Who switched sides along the way?  How has the Trump Administration tried to roll back LGBT rights and how successful have they been?  What has the role of organized religion been, on both sides of this struggle?
Come to this Nathan E. Cohen Lecture on November 3 as Dale Rosenberg, Jewish Educator and sometimes LGBT activist, weaves recent history and personal experience together to illuminate the struggle for equal rights since Stonewall.
Legacies of Trauma
November 12, Tuesday, 7 p.m. 
at the Brattleboro Museum 
 In this lecture, Dr. Henry "Hank" Knight will focus on the concept of "historical trauma," the cumulative emotional harm experienced by an individual or a generation due to a traumatic event, even if they themselves did not experience the event. The Holocaust and other genocides provide an opportunity to examine the lasting legacy of trauma on entire groups for generations beyond the tragedy itself.
This lecture is presented in conjunction with the exhibit Fafnir Adamites: Interfere (with). Adamites' work largely focuses on intergenerational trauma and the emotional turmoil inherited from past generations. Her feltmaking, weaving, and papermaking act as a meditation to work through past traumas.
Dr. Knight retired in May 2019 after 12 years at Keene State College, where he directed the Cohen Center for Holocaust and Genocide Studies and was recognized as the 2018 Distinguished Teacher of the Year. He is co-chair of the biennial Steven S. Weinstein Holocaust Symposium, which he and Leonard Grob co-founded in 1996, and he serves on the Church Relations Committee of the U.S. Holocaust Memorial Museum in Washington, D.C. Knight earned his B.A. in English from the University of Alabama and his M.Div. and D.Min. degrees from Emory University.                                                  ADMISSION: Free